Collaborative Designs: The Kitchen
Home remodeling design – when done right - is a calculated and complicated process.  But it is fun and exciting as well.  In order to ensure each project is unique, specific and most importantly, successful – we ask a lot of questions and spend most of our time listening to you.  We understand that there is great variety in personal taste, style, home and neighborhood.   That means our design needs to be creative and adaptable.  Our clients appreciate the collaborative process and personalized design that each of them receives.  This prudent planning leads to elegant execution – often exceeding their expectations!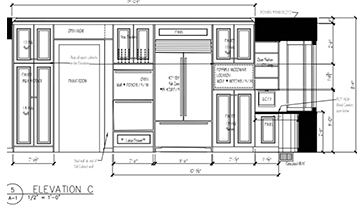 Recently, we worked with a client on a kitchen remodel.  During the programming meeting (typically done in our design kick-off), we uncovered information that ultimately led to a design that beautifully blended floor planning and functional enhancements. Not only did the design improve layout and flow, but also accommodated the specific ways they used their kitchen, for a truly personalized kitchen experience. 
By asking questions and listening, we learned that the homeowners enjoy hosting large parties for friends and family.  Therefore, it became evident that the delicate and tricky balance of an oversized island and a spacious feeling floor plan would be a must.  In addition, a dramatic improvement to the connectivity to the previously tucked away family room was imminent.
Not only was the floor planning taken in account but so were some very functional details.   This particular client has a vast assortment of cutting boards, cooking trays and baking tools.  As seen in the elevation of the CAD design, we were able to plan a customized organizational system into a cabinet that held all these accessories in a creative and easy-to-access fashion.  In addition to the cutting boards we added an extra drink refrigerator, an integrated pantry unit, an induction cooktop, plenty of dish storage for everyday use and even room for the special china!  Finally, we integrated a home office area with a matching "floating" desk and open shelves that gave them a place where mail and important papers wouldn't get lost.
That is what makes Domers different.  We spend the time and design for you - to get it right.  Everytime.  So, go ahead… DESIGN. BUILD. ENJOY.